Halo: Reach | Microsoft Xbox 360 | 2010 | Resurfaced
$7.99
Compare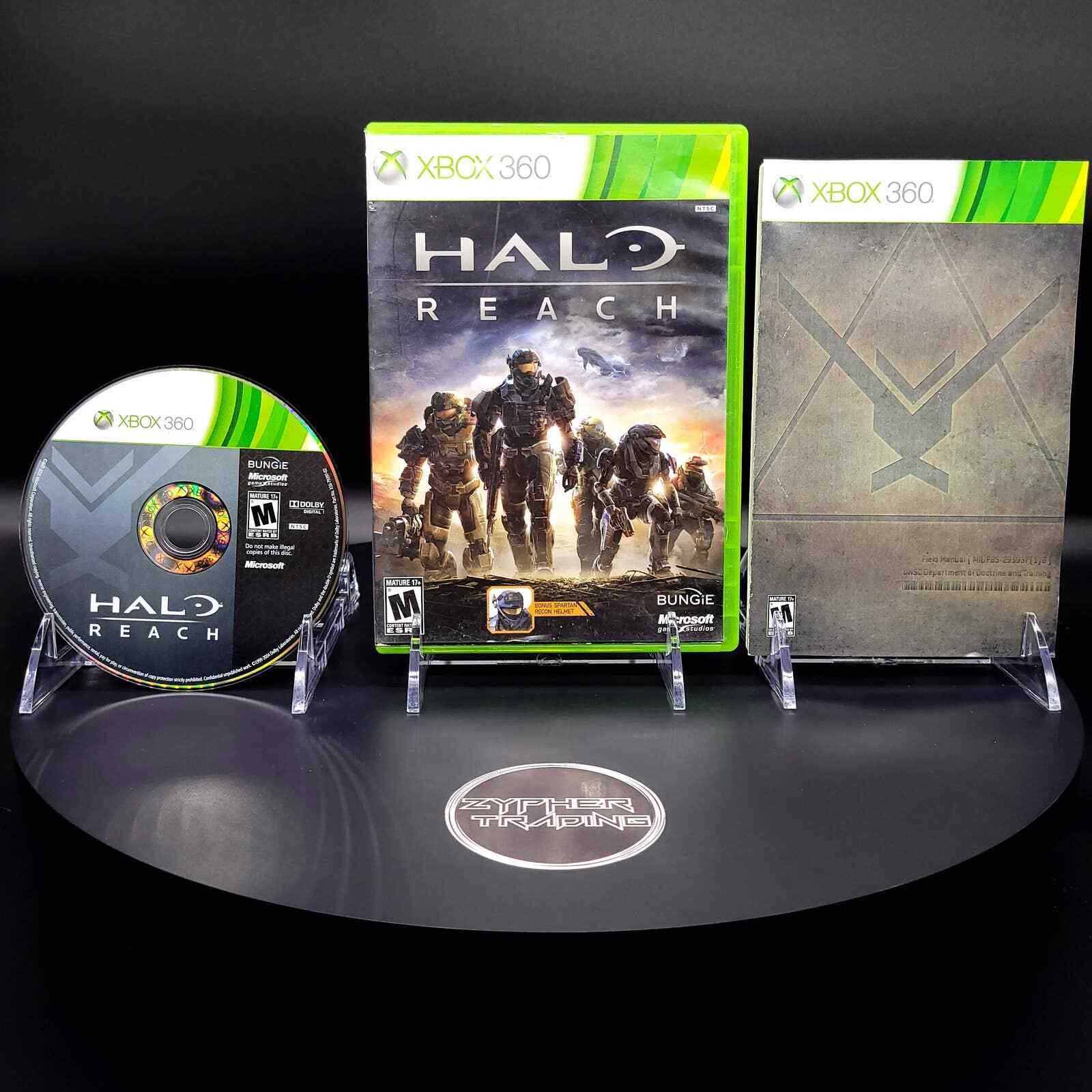 An item in used but good condition. May have minor damage to jewel case including scuffs or cracks, or to the item cover including scuffs, scratches, or cracks. The cover art and liner notes are included for a CD. VHS or DVD box is included. Video game instructions are included. No skipping on CD/DVD. No fuzzy/snowy frames on VHS tape. See the seller's listing for full details and description of any imperfections.
See all condition definitionsopens in a new window or tab
"Item/s sold by ZypherTrading are in Good/Great Cosmetic Condition & Working Condition (unless otherwise specified)
Item/s are Pre-Owned/Used (unless otherwise specified)
Item/s are Cleaned & Tested (unless otherwise specified)
Item/s may be missing Original Case, Original Cover-Art, Original Manual, Original Stickers, Original Inserts, Pre-Order Bonuses, DLC/Codes, etc.
Item/s may contain Scratches, Dents, Dings, Rips, Tears, etc.
Disc/s Have Been Resurfaced With ELM/RTI Pro Disc Resurfacing Machine, Disc/s May Still Contain Light/Surface Scratches"
Country/Region of Manufacture:
Halo: Reach | Microsoft Xbox 360 | 2010 | Resurfaced
Product Information
Acclaimed developer Bungie's final Halo game for Microsoft serves as a prequel to the sci-fi storyline that began in 2001. An all-new campaign supporting cooperative action for up to four players is included, and in a departure from previous titles, Master Chief is no longer the main protagonist. You are a new recruit to the Noble Team, a six-person squad of Spartan super soldiers, whose members specialize in key roles and wear customized gear. Planet Reach, the main base for UNSC military operations and home to 700 million civilians, is under attack from the alien collective known as the Covenant. Your mission is to assist the human resistance and prevent the Covenant from destroying Reach, Earth's last line of defense.<br><br>The shooting takes place from a first-person perspective, powered by a new graphics engine designed to incorporate large-scale battles in more open environments than in previous entries. Enemy AI has also changed from earlier games, relying more on dynamic actions instead of scripted routines. Each soldier's armor now offers distinctive abilities, depending on the equipped enhancements. A jetpack allows you to fly, active camouflage makes you invisible to enemies, sprint lets you dash at high speeds, and armor lock makes you temporarily invulnerable at the expense of movement. These abilities also play an important role in Halo: Reach's multiplayer modes, which support up to 16 combatants online.<br><br>Reach's multiplayer component includes such past favorites as Team Slayer and King of the Hill along with new options. In Headhunter, players collect flaming skulls from defeated opponents and attempt to deposit the skulls in designated areas for points. If you are killed before you reach the target area, your collected skulls will fall to the ground for others to retrieve. Stockpile is a variant on capture the flag, while Generator Defense pits three Spartans versus three Covenant Elites in a battle to defend or destroy generators. Invasion features a series of three team-oriented skirmishes designed in a similar fashion to Battlefield: Bad Company's rush mode. In addition, players can create custom scenarios with the Forge option, take in-game screenshots, earn credits to cosmetically enhance their soldier, and record video to study combat techniques or to share with the Halo community.
Additional Product Features
Game Name Special Features
Features four all-new multiplayer game types Master new abilities derived from your soldier's armor Team up with three friends to complete the co-op campaign
Price : 7.99

Ends on : N/A

View on eBay