Mortal Kombat vs. DC Universe (Xbox 360, 2008)- Disc Only Tested
$6.72
Compare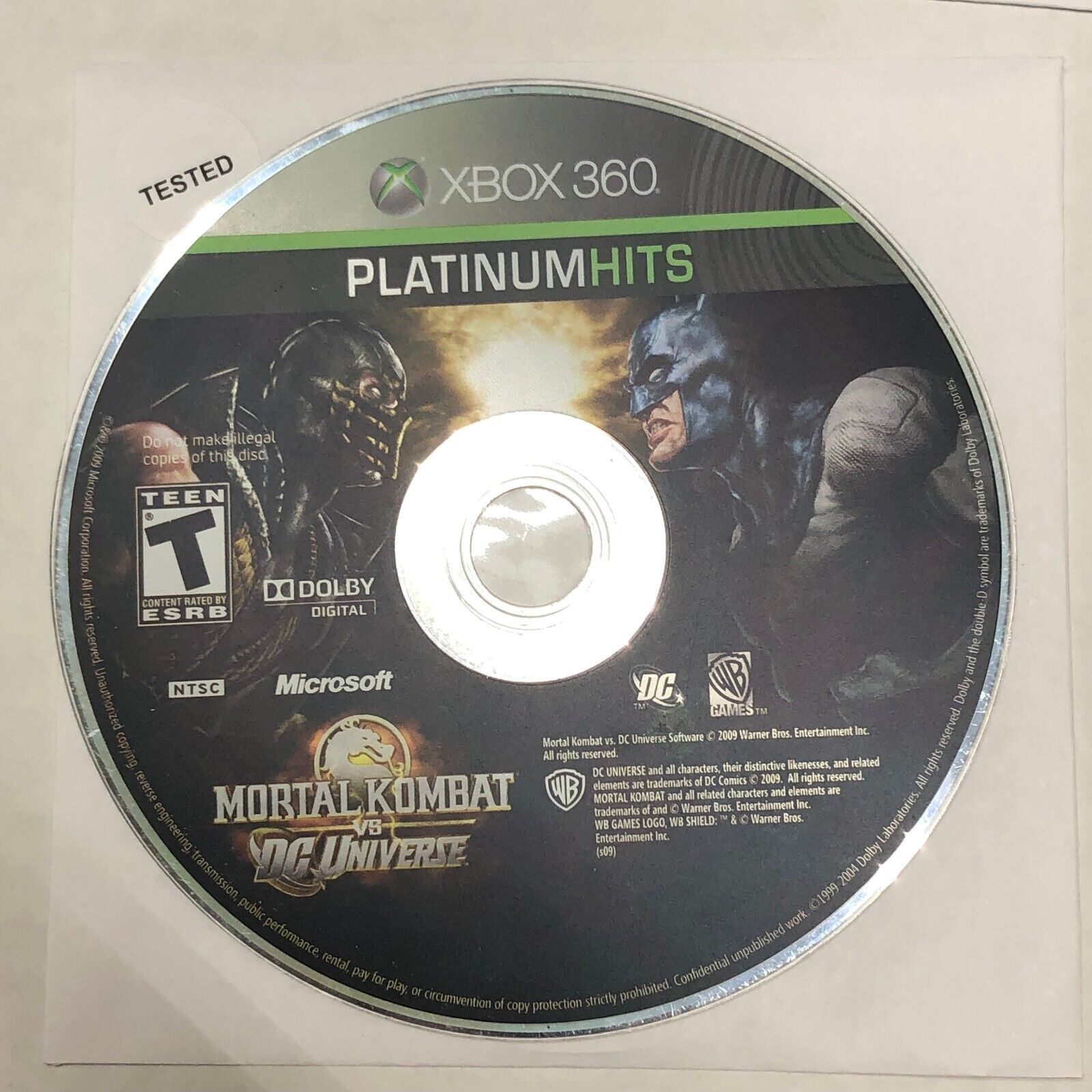 An item with obvious and significant wear but is still operational. May have tears or holes in VHS/DVD box. The video game instructions and box may not be included. See the seller's listing for full details and description of any imperfections.
See all condition definitionsopens in a new window or tab
"Disc is Clean may have minor signs of wear was Tested briefly to play."
Mortal Kombat vs. DC Universe
Mortal Kombat vs. DC Universe (Xbox 360, 2008)- Disc Only Tested
Product Information
Mortal Kombat vs. DC Universe presents coin-op and comics fans alike with the chance to battle through never-before-seen fantasy grudge matches featuring the most powerful characters from Midway's notoriously brutal fighting series and DC Comics' expansive superhero universe. Although it's not the first fighting game to bring together characters from multiple fictional universes, many of the most recognizable DC heroes are playable in head-to-head bouts for the first time here. <br><br>The roster of 22 playable characters includes Scorpion, Sub-Zero, Sonya, Raiden, and Kano from the Mortal Kombat games, with Batman, Superman, The Joker, Wonder Woman, and Darkseid from DC. Each character has a particular fighting technique, as well as a distinct, Mortal Kombat-style finishing move. The game's "Freefall Kombat" allows fighters to battle as they fall from one level of an arena to another, and the "Klose Kombat" mechanic handles up-close grappling. An expanded single-player campaign follows a storyline in part by comics writers Jimmy Palmiotti and Justin Gray. Unlike earlier Mortal Kombat console games, Vs. DC Universe receives a rollicking T for "Teen" rating from the ESRB.
Product Key Features
Mortal Kombat vs. DC Universe
Additional Product Features
Blood, Suggestive Themes, Violence
Game Name Special Features
Batman, Scorpion, Superman, Raiden…22 heroes go head-to-head and fist-to-fist! Dark, gritty, hardcore 3D fighting across deadly, multi-level arenas Single-player storyline collaboration from Jimmy Palmiotti and Justin Gray
Price : 6.72

Ends on : N/A

View on eBay